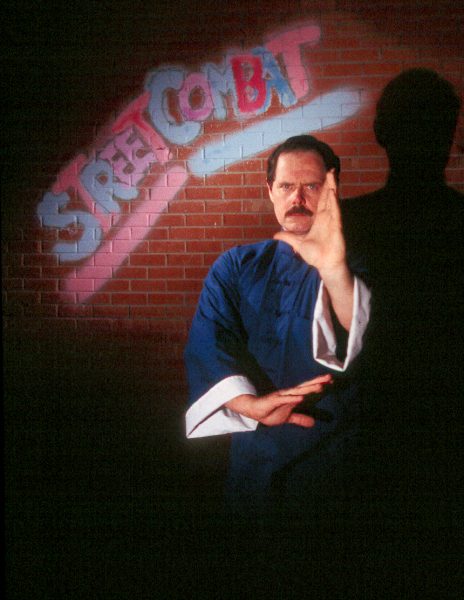 Are you interested in realistic Baguazhang applications without all the fancy impractical movements? A method devoid of all the mumbo jumbo and mystical pseudo-scientific explanations? If so you have come to the right place.
This award winning timeless series filmed in Hollywood in 1994 features Dr. John Painter's concepts for using the unique Li family Baguazhang known as Jiulong Baguazhang / Nine Dragon Eight Diagram Palm Boxing as a self-defense method.
These practical street proven tactics are filmed at actual combat speed, and then broken down to show each principle and technique used in the Eight Palms of Baguazhang. See Dr. Painter dealing with real street fighters, boxers and other martial artists as he shows you hand to hand methods, throwing, locking and defending against multiple opponents, clubs and edged weapons. No theory here, this series is a part of the training used by The American Rangers Law Enforcement Training Institute to train corrections officers, Sheriff Officers, Police and Military.
There are no impractical, fancy modern Wushu demonstration forms. What you will find here is modern interpretations of realistic training methods using the ancient art of Baguazhang as used by Chinese professional bodyguards(Baobiao) and palace guards who protected the emperor and empress of China. Many of these same methods are used today by the Chinese Special Forces and police.
Dr John. Painter is a Captain (commanding officer) in the American Rangers Law Enforcement Training Institute overseeing the training of professional law enforcement trainers in the United States, Canada, Israel and the UK. If you are looking for honest, proven methods taught in a straight forward manner then this series is for you!
Even if you are a student of another style of Baguazhang we strongly urge you to begin with the basic training (jibengong) presented in volume 1. Basic Training Principles as many of the ideas and tactics will almost assuredly be entirely new to you.
---
Special Offer
The Complete Series for only
$99.95
Here is the complete series of Nine Dragon Baguazhang For Street Combat.
This specially priced set is the equivalent of getting 2 of its videos for free!
Vol.1 – Basic Training Principles : Dr. Painter presents step-by-step instructions taking
you through Jiulong Baguazhang meditation, martial qigong, basic postures, Bagua
standing training (Zhan Zhuang), the power of stances, developing moving root and
power with specialized linear walking methods.
Vol.2 – Walking the Circle and Combat Games : This program takes you step by step
through foot patterns, circle walking, postures and the famous eight Baguazhang palms
to help you develop circular combative power of Jiulong Baguazhang.
Vol.3 – Hand to Hand Tactics : Learn to use the power of Fire and Thunder palms to
simultaneously neutralize and counter strike with tremendous force against any street
fighter or martial art attack. Defeat strikes, punches, kicks, and locks with ease.
Vol.4 – Capturing – Locking – Throwing Skill : Learn simple, uncomplicated methods
to seize pressure points, lock joints, break limbs, or throw an enemy attempting to choke,
grab, hold, strike, or kick you.
Vol.5 – Defense Against Clubs : This video features whole body powers from Water
and Wind palms as used in a life or death struggle with a weapon wielding opponent.
Vol.6 – Defense Against Knives : This video features Earth and Mountain palms
postures for use in a life or death struggle with an edged weapon wielding opponent.
Former bodyguard, Dr. John Painter takes you through realistic, real-world defensive
tactics and strategies based on his 30 years of street experience with combat
Baguazhang.